Home
>
Successful Transitions to and from Home Care Syllabus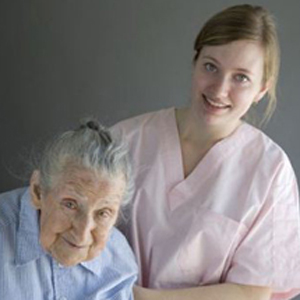 Successful Transitions to and from Home Care
Description
This course is designed to help health care providers understand the process for successful transitions to/from home care, to/from skilled nursing facilities, and to/from outpatient therapy for home care clients. Participants will have the opportunity to reflect on what they are learning through case scenarios.
Delivery
This is a self-paced course with optional knowledge check quizzes after each lesson. These non-graded quizzes allow you to check your understanding of the lesson objectives before proceeding to the next lesson. After the final lesson you will be required to take the final exam. You must score 80% or higher to pass the course and obtain a certificate of completion.
Objectives
Determine type and level of care needed for a client
Explain the steps involved in transitioning from home care to a skilled nursing facility
Describe situations where the PT, OT, or RN may not be able to fully meet the needs of their clients in the home setting
Explain the importance of Informed Consent
List special payer considerations
List possible referral sources and the importance of coordination of care
Compare and contrast successful and unsuccessful client transitions
Contact Time
1.2 contact hour(s) based on 60 minute contact hour
Estimated Time
The estimated time for completion for this activity is 1.2 hours
Intended Audience
This course is designed to meet the continuing education requirements of Registered Nurses, Licensed Practical Nurses, Physical Therapists, Occupational Therapists and Speech Therapists
Course Planning Team
Kathy Richie, BSN, RN, Iona Kaye (Katie) Barton, PT, Ed. D, MEPD, Michelle Olson, M.S.P.T.
Course Expiration Date
As required by ANCC, this continuing nursing education activity must carry an expiration date. You must complete the content, Final Quiz and Course Survey on or before that day. The last day to successfully complete this course and receive a Certificate of Completion will be December 31, 2019.
Approvals
WNA/CEAP
- Wisconsin Nurses Association
"Rochester Community and Technical College is an approved provider of continuing nursing education by the Wisconsin Nurses Association, an accredited approver by the American Nurses Credentialing Center's Commission on Accreditation."
Provider Approval Number 0149-006;
Disclosure Statements:
Commercial Support: This course was developed in accordance with ANCC Commercial Support Guidelines. No commercial support was accepted for the development of this course.
Non-endorsement of Products and Off Label Use: This course provides a balanced view of therapeutic options. Use of generic names is always considered before using trade names. Consequently, if trade names are necessary, when available, we will use trade names from several companies. RCTC and the course planning team do not endorsed any products or drugs that may be mentioned in this course.
Author Originating
Iona Kaye (Katie) Barton - PT Ed. D MEPD
Katie received both her Bachelors of Science in Physical Therapy and her Masters of Education in Professional Development from the University of Wisconsin - La Crosse. She received her Doctorate in Education Leadership from Saint Mary's University in Minneapolis, MN. Katie was an adjunct instructor for the physical therapy program at the University of Wisconsin - La Crosse for 17 years. She has a varied background of healthcare experience including birth-3, hospital based pediatrics, school based PT, SNF PT, and most recently, 6+ years as a physical therapist for a hospital based home care and hospice agency.
Michelle Olson - M.S.P.T.
Michelle received her Bachelors of Science in Biology from the University of Wisconsin - La Crosse and her Masters of Science in Physical Therapy from Carroll College. She has been practicing as a physical therapist for a hospital based home care and hospice agency for the past 8 years and has had experience in sports medicine and pediatric home and clinic based care. Michelle has a special interest in physical therapist education and has also been employed as a lab assistant/associate lecturer at the University of Wisconsin - La Crosse for the past 5 years. Michelle is an APTA certified clinical instructor and has been taking students into the home care setting for the past 6 years.
Copyright
Materials used in connection with this course may be subject to copyright protection. Retention of the materials for longer than the class term, unauthorized further dissemination of the materials, or use of copyrighted materials in any way other than intended for this class is prohibited by Copyright and Teach Act laws.
Acknowledgment
This course was developed with Rochester Community and Technical College's Continuing Education and Workforce Development Division located in Rochester Minnesota. Development was funded from the Minnesota State Colleges and Universities System.
Course Code
TYST
Course Category
Paraprofessional Health