Home
>
Intergenerational Communications for the Professional Syllabus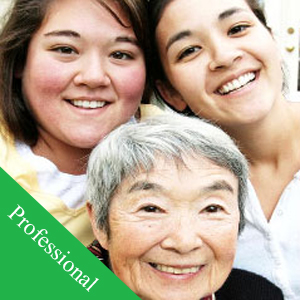 Intergenerational Communications for the Professional
Description
We live and work in a diverse world. One aspect of diversity is communicating with people from different generations. In a single day, we may interact with someone who is 80, 60, 35 or 22. Each person is part of a unique generation -- Matures, Baby Boomers, Gen X's or Gen Y's - with common experiences that shaped his or her values. Once we understand these attributes, we can appreciate and have better relationships with those we serve. 

As caregivers and coworkers, we are more productive and satisfied when we can build bridges, not walls, between generations. This course examines issues and challenges related to intergenerational communications. Ethnicity, immigration and family dynamics are also integrated with widely-accepted research on the behaviors, perceptions and preferences of individuals from four generations. Caregivers will learn tips and techniques for connecting with others so they can be more effective in their roles.
Delivery
This is a self-paced course with optional knowledge check quizzes after each lesson. These non-graded quizzes allow you to check your understanding of the lesson objectives before proceeding to the next lesson. After the final lesson you will be required to take the final exam. You must score 80% or higher to pass the course and obtain a certificate of completion.
Objectives
Recognize similarities and differences in the way members of four generations think, behave and interact with others
Apply basic concepts of effective interpersonal communications with clients and coworkers of all generations
Identify the links between ethnicity (Native American and Latino), economic status, immigration, and generational characteristics
Understand challenges facing family caregivers.and how to improve communications with them regardless of their age
Contact Time
5.8 contact hour(s) based on 60 minute contact hour
Estimated Time
The estimated time for completion for this activity is 5.8 hours
Intended Audience
This continuing education course is of interest for all healthcare professionals that communicate with patients and peers, such as: licensed practical nurses, registered nurse, physical therapists, dietitians, and social workers.
Course Planning Team
Kathy Richie, BSN, RN, Connie Kotke, Master of Business Communication
Course Expiration Date
As required by ANCC, this continuing nursing education activity must carry an expiration date. You must complete the content, Final Quiz and Course Survey on or before that day. The last day to successfully complete this course and receive a Certificate of Completion will be December 31, 2019.
Approvals
WNA/CEAP
- Wisconsin Nurses Association
"Rochester Community and Technical College is an approved provider of continuing nursing education by the Wisconsin Nurses Association, an accredited approver by the American Nurses Credentialing Center's Commission on Accreditation."
Provider Approval Number 0149-006;
Disclosure Statements:
Commercial Support: This course was developed in accordance with ANCC Commercial Support Guidelines. No commercial support was accepted for the development of this course.
Non-endorsement of Products and Off Label Use: This course provides a balanced view of therapeutic options. Use of generic names is always considered before using trade names. Consequently, if trade names are necessary, when available, we will use trade names from several companies. RCTC and the course planning team do not endorsed any products or drugs that may be mentioned in this course.
Author Originating
Connie Kotke - Master of Business Communication
Connie Kotke is principal of Nautilus Communications LLC, a consulting practice dedicated to helping companies improve performance through proven employee communication and organizational development strategies. Equally at home in a corporate setting as she is in the classroom, Kotke devotes a good portion of her time teaching and mentoring students of all ages to help them achieve professional and personal success. <br><br> Prior to founding Nautilus, Kotke spent nearly 20 years leading brand and reputation management, internal communications, investor relations and marketing communications for various companies. She earned a Master of Business Communication degree from the University of St. Thomas and graduated summa cum laude from Concordia University with a Bachelor of Arts degree in Organizational Management and Communications. In addition to consulting, she is an adjunct instructor for graduate programs at Saint Mary's University in Minneapolis; develops and conducts a variety of continuing education courses for Minnesota State Colleges and Universities; publishes national articles and manuscripts, and coaches entrepreneurs as a consultant for the Minnesota Small Business Development Center.
Copyright
Materials used in connection with this course may be subject to copyright protection. Retention of the materials for longer than the class term, unauthorized further dissemination of the materials, or use of copyrighted materials in any way other than intended for this class is prohibited by Copyright and Teach Act laws.
Acknowledgment
This course was developed with Rochester Community and Technical College's Continuing Education and Workforce Development Division located in Rochester Minnesota. Development was funded from the Minnesota State Colleges and Universities System.
Course Code
RNIGB
Course Category
Professional Health